> Home > What to visit > Churches and Monasteries
Santa Maria della FraternitÓ
Foiano
CHURCHES AND MONASTERIES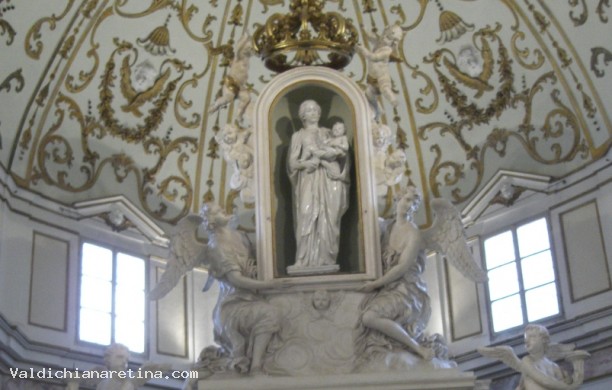 PHONE NUMBERS AND TIMES

Santa Maria della FraternitÓ
Via Ricasoli 52045 Foiano della Chiana

Telephone 0575 643239


Business card (vCard)
The church of Santa Maria della Fraternity is located in the ancient village of the Fraternity in Castelvecchio, in the first circle of the castle walls dating back to the fourteenth century. and built on the site of an ancient oratory wedged between the construction of the Via Ricasoli.
The church, also known as S. Euphemia to have hosted in the past relics of the saint, was built at the beginning of the sixteenth century and later enriched and expanded.
The facade of the eighteenth century. is divided into four pilasters, volutes and garlands, on which rests a broken frame. Above, a pediment bounded by the second order central pilasters, which are connected with slight curves on both sides at the ends.
In the center, a portal with a central triangular pediment, surmounted by a squaring mirror.
The interior has a single rectangular nave topped by a beautiful coffered ceiling of the seventeenth century. carved and painted by Francesco da Cortona loving them (1618).
The choir of ample proportions, supported by large brackets and all of carved wood, painted blue and gold, the front is adorned with rich decorations and is divided into eight compartments, the early twentieth century. were still supplied with oil paintings on canvas, represented the busts of the four Evangelists and four other Saints.
Above the choir is placed the organ, which is also enclosed in ornamental decorations forming one together with the choir itself.
At the bottom of the church, in the choir going right, the stack of holy water in the form of a cup, is finely crafted and square foot flanked by the arms of the Fraternity and the Medici family. This travertine is similar to another existing stack in the church of SS. Trinity.
Works
- "Madonna and Child" or "Our Lady of the Snow" by Andrea della Robbia (1460);
- 5 pictures "Martyrdom and Glory of St S. Eufemia and Lucia "Sagrestani Camillo (1671-1760);
- "Marriage of the Virgin" and "Visitation of the Virgin Mary and St. Elizabeth" works of the Florentine School (XVI c.)
STAY

NEARBY
DINING & ENTERTAINMENT

NEARBY