> Home > Where to stay > Hotels
Locanda La Toscanina di Canapone
Foiano
HOTELS 3 STARS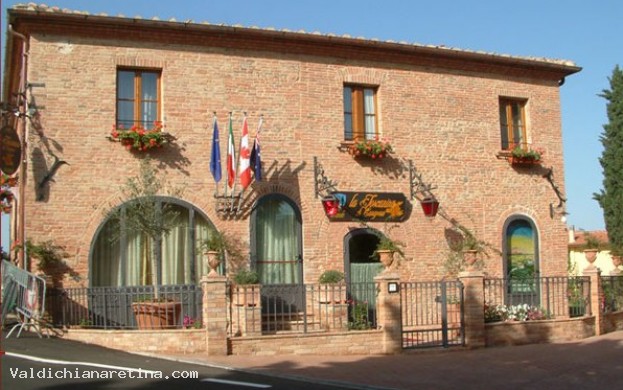 SERVICES
CORSI DI CUCINA O ARTIGIANATO LOCALE
DEGUSTAZIONE PRODOTTI AZIENDALI
MANEGGIO
PISCINA SCOPERTA
SOMMINISTRAZIONE ALIMENTI
RISTORANTE
PISCINA COPERTA
ARIA CONDIZIONATA
DISPONIBILIT└ BICI E BYKE
TV SATELLITARE
RISCALDAMENTO INVERNALE
SALA RIUNIONI
OSTERIA E/O BAR
PARCO O GIARDINO
SCUOLA DI CUCINA
STRUCTURE DESCRIPTION

Mail Center near the town of Foiano, Locanda
"The Toscanini of Canapone" is a good result of a genuine farmhouse Leopoldina (1700).
Mani wise have kept the original feature external and internal, but with modern comforts and rich. The interior consists of ten rooms, all furnished with special colors and curtains (each wearing a name and a different color painting).
Farmhouse Furniture
The furniture is authentic, classic-style rustic first'900.
Elegant and comfortable services, so the room, individual rooms for breakfast, entry and residence.
Each room is equipped with heating, air conditioning, satellite TV and an elegant bathroom with shower.
The exterior is surrounded by a large garden, comfortable and welcoming.
Agriturismo services of Toscanini Canapone
The service is excellent and has as its main feature to offer a family residence.
The guests of "The Toscanini of Canapone can enjoy cooking classes taught by famous chefs, bridge courses, practice a few steps sport of swimming and free education in the two pools indoors and outdoors.
At about one kilometer an opportunity to practice sports like golf (Golf Club Valdichiana), horse riding and training flights on ultralight planes, sport fishing, mountain bike rentals, etc..
ARCHITECTURE, ART

NEARBY
DINING & ENTERTAINMENT

NEARBY