> Home > Where to stay > Bed & Breakfast
Poggio Sant'Angelo
Cortona
BED & BREAKFAST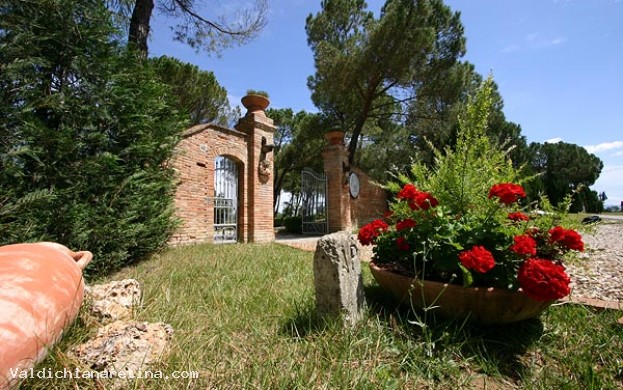 * Required field
DO YOU WANT MORE INFORMATION?

Call our Call Center at
Tel. 0575 610365 - Fax 0575.610715

Website
www.poggiosantangelo.it
SERVICES
ACCESSIBILITA PORTATORI HANDICAP
ACCETTAZIONE ANIMALI DOMESTICI
PISCINA SCOPERTA
SOMMINISTRAZIONE ALIMENTI
LAVATURA E STIRATURA BIANCHERIA
RISTORANTE
ACCESSO A INTERNET
SERVIZIO FAX
DISPONIBILIT└ BICI E BYKE
TV SATELLITARE
RISCALDAMENTO INVERNALE
PARCHEGGIO RISERVATO
STRUCTURE DESCRIPTION

The country house Poggio Sant'Angelo, located nearby the Abbey of Farneta, one of Tuscany's most charming abbeys, offers its guests a unique chance to experience the atmosphere and the enchantment of an ancient Leopoldine-age country-home dipped in the green Tuscan country-side only miles away from Cortona, a town extremely rich in art and history, and the major lines of communication allowing to easily reach the main cultural and tourist centres of Central Italy (Siena, Montepulciano, Florence, Perugia, Assisi and Rome).

The building is laid out over two floors: the ground floor housing the reception area and the restaurant and the first floor featuring six bedrooms, one suites, two double bedrooms and a large reading room with open fireplace and comfortable sofas. An annex, located just outside the villa houses a wine-bar; a large pool enjoying a wonderfully sunny position, is located in the adjoining park surrounded by century-old trees.

Initially built as a farmers' home in the late 1800s the farmhouse was inhabited, before recently undergoing extensive restoration work, by the landowner's family for the entire 20th century. A date (1887) engraved on the building's lightining rod tells the long story of the villa that underwent several times, over the years, extensive restoration work always carried out, though, in full compliance with local architectural standards so as to practically preserve the original appearance of the property. All here contributes to recreate the warm and charming atmosphere of an ancient Tuscan villa: the sandstone paved driveway, the outside areas paved with bricks, the traditional façade adorned with the typical turret, the open porch immediately conjuring up a warm feeling of hospitality, large intercommunicating rooms separated by brick arches, exposed wood-beam ceilings, handmade cotto floors in the restaurant and antique cotto floors in the bedrooms, the large open fireplace in the large reading room. Great care was taken in the selection of furniture: all pieces of furniture of restaurant and bedrooms date back to the early twentieth century.

The villa is dipped in a wonderful park luxuriant with mediterranean plants and typical trees of the Tuscan country-side. Beyond the entrance, the driveway taking to the large parking area flanked by a wonderful rose-garden is lined with a wealth of pine-trees, cypresses and oak-trees. The originally sail-shaped swimming-pool, lying on a small hill accessed through a narrow path, also leading to a lovely well, stands at the centre of a lawn area surrounded by Mediterranean scrub adding a more intimate and natural atmosphere. The other side of the pool borders on a lush Tuscan olive-grove from which guests may enjoy a spectacular view of the Valdichiana. Property limits are marked by oak-trees and laurel hedges emphasizing the solidity and beuaty of the property itself. Both the villa and the wine-bar are surrounded by an impressive lawn area.

The property is an ideal location for parties, meeting and wedding receptions.
ARCHITECTURE, ART

NEARBY
DINING & ENTERTAINMENT

NEARBY