> Home > What to visit > Churches and Monasteries
San Francesco a Foiano
Foiano
CHURCHES AND MONASTERIES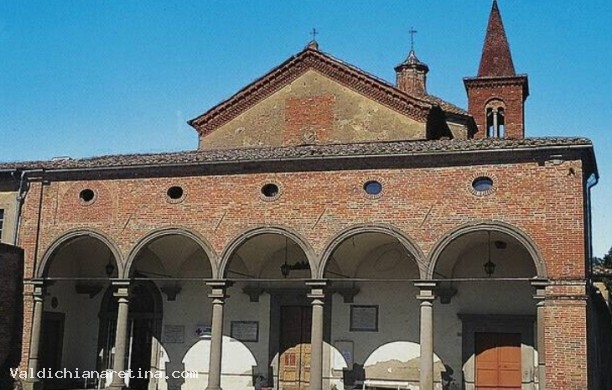 PHONE NUMBERS AND TIMES

San Francesco a Foiano
Viale Umberto I 52045 Foiano della Chiana

Telephone 0575 648656


Business card (vCard)
The church of San Francesco, is a single body with the former convent of the same name, is located at the end of Viale Umberto I, on the road to Lucignano, about 0.8 km. from the center. Founded at the behest of the provincial chapter of the Franciscans in 1492, the complex included a church with the adjoining cemetery, a cloister, the refectory, a dormitory, workshops and gardens.
From 1818L'antico convent is used as a hospital.
The facade of the complex of San Francesco, is characterized by a portico with five bays, with vaulted ceilings, set on four pillars order toscanico and two half pillars embedded in extremes. Above the arches runs the choir, laying down five elliptical windows.
The entire complex was renovated between 1759 and 1764, those dates in the lunettes above the doors of the church and the monastery were painted.
Inside you will find many pears:
- Group Robbiano (nine figures) "St. Francis, Three Marys supporting the Virgin, Crucifixion, St. Mary Magdalene, St. John the Evangelist and St. Clare" by Francesco Della Robbia
- Fra 'Ambrogio - (first half of '500);
- "Jesus and the Virgin Mary intercede with the Lord" of Andrea and Giovanni della Robbia (1495-1500);
- "S. And St. Peter of Alcantara Pasquale Baylon "Father Alberic Carlini from Vellano (1760);
- "S. Francis and St. Giacinto who worship the Madonna and Child "by Jerome Scrofiano Blasi (1614);
- "S. Margaret of Cortona "by Mauro Soderini of Florence (1744).
STAY

NEARBY
DINING & ENTERTAINMENT

NEARBY