> Home > Where to stay > Agritourism
Villa Scannagallo
Foiano
AGRITOURISM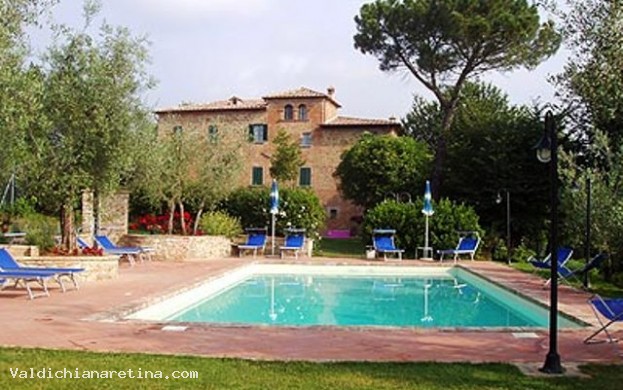 STRUCTURE DESCRIPTION

Scannagallo is an ancient villa situated on a hill area very near to the major cities of art: Siena, Florence, Perugia, Cortona and Assisi. Until few years ago the villa represented the heart of a wide farm, then a recent and accurate restoration turned it into a comfortable holiday house divided into six apartments. The Villa is surrounded by a park where the many green wide spaces are furnished with garden pieces of furniture. A panoramic terrace with barbecue and firewood furnace is available for moment of relax under secular trees. The beautiful swimming pool is equipped with umbrellas and sun beds. The furniture of the apartments, which is comfortable, is high in quality and style. The apartments are all independent and each of them is equipped with its own kitchen, sitting room with chimney, bedrooms with bathroom and they are suited for 2/4/6/8 people.
Villa Scannagallo is in Tuscany , in the center of the Valdichiana valley. It is 10 minutes by car far from Cortona and Arezzo and just one hour from Siena, Florence, Assisi . Since it is a lend rich of history and traditions, you can also visit two archeological museums and some Etruscan spots and ways. The works of art of the main artists of the Renaissance that you can find in the towns near the Villa Scannagallo are also very interesting: della Robbia, Signorelli, Duccio da Buoninsegna, Piero della Francesca. Besides, Tuscany offers unique food and wines: Chianina meat, cheese, salami delicatessen, the wines Nobile di Montepulciano, Chianti Classico and Brunello di Montalcino. In every season of the year both religious and popular events take place in the towns of the surrounding area: in August in Cortona there are the steak festival and the antiques exhibition, in June in Castiglion Fiorentino there is the Palio dei Rioni, in September in Monte San Savino the roast sucking-pig festival, in July in Siena there is the famous palio, in February in Foiano there is the Carnival, in Easter in Castiglion Fiorentino there are religious manifestations of the Holy Week, in March in Torrita there is the monkeys' palio, at Christmas there are living cribs in Marciano della Chiana and in Castiglion Fiorentino.
ARCHITECTURE, ART

NEARBY
DINING & ENTERTAINMENT

NEARBY