> Home > Where to stay > Agritourism
VILLA ROSA
Castiglion Fiorentino
AGRITOURISM 2 EARS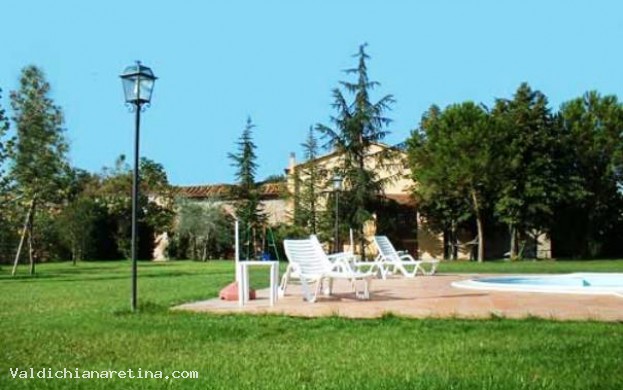 SERVICES
ACCETTAZIONE ANIMALI DOMESTICI
GIOCHI PER BAMBINI
PISCINA SCOPERTA
TREKKING
DISPONIBILIT└ BICI E BYKE
RISCALDAMENTO INVERNALE
STRUCTURE DESCRIPTION

Farm House "Villa Rosa" is situated in the heart of Central Italy where Tuscany and Umbria meet, reflecting themselves in the glistening Valdichiana valley.

"Villa Rosa", lovingly restored, retain the original structure and atmosphere giving you a comfortable and natural place to spend your holidays.

The spacious park area is the natural place to spend your mornings and/or evenings reading or admiring the views of the Tuscan countryside; offers guests quiet relaxation and is equipped with patio tables and chairs and for those who enjoy cooking in the open air we also provide a shared outdoor kitchen, including barbeque and wood stove.

Villa Rosa is a pleasant place for both quiet and invigorating relaxation and for refreshing yourself in the splendid swimming pool (dim.7x14 m) for refreshing yourself.Also available free use of mountain-bikes,ping-pong and internet for to send email.
ARCHITECTURE, ART

NEARBY
DINING & ENTERTAINMENT

NEARBY