> Home > What to visit > Churches and Monasteries
Santuario della Madonna delle Vertighe
Monte San Savino
CHURCHES AND MONASTERIES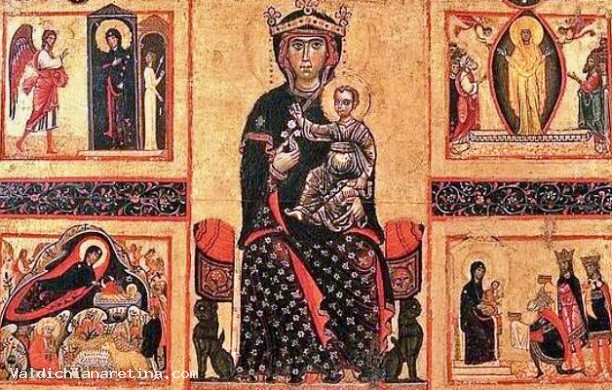 PHONE NUMBERS AND TIMES

Santuario della Madonna delle Vertighe
Via le Vertighe, 563 52048 Monte San Savino

Telephone 0575 849326


Business card (vCard)
The sanctuary, destination of continuous pilgrimages, at the beginning of the sixteenth century, was enriched with a porch along the church, to protect pilgrims from the elements, and was internally renovated
The interior has a basilica plan with three naves divided by rows of columns with Ionic capitals on which round arches are set.
The central nave is covered with trusses.
The most relevant works of art found inside are:
Madonna with Child on the throne and four stories of the Virgin of Margheritone d'arezzo

A fresco with the Nativity of the Virgin by the Arezzo painter Bernardino Santini (1627)
A diptych with San Savino and San Romualdo painted by Ridolfo del Ghirlandaio in 1520.
Above the main altar inside a reliquary is the Madonna di Vertighe and four stories of the Virgin of Margarito and Ristoro di Arezzo, signed and dated 1274 or 1283.
At the height of the altar of San Francesco there is a shaped crucifix by Lorenzo Monaco datable between 1415 and 1420.
In succession we find a fresco by Orazio Porta with the Assumption of the Virgin (1590)
Another fresco with the Translation of the Chapel and the apparition of the Madonna delle Vertighe to the shepherds, at the end of the 16th century, in Poccettian style.
STAY

NEARBY
DINING & ENTERTAINMENT

NEARBY