> Home > Where to stay > Agritourism
Cortoreggio
Cortona
AGRITOURISM 2 EARS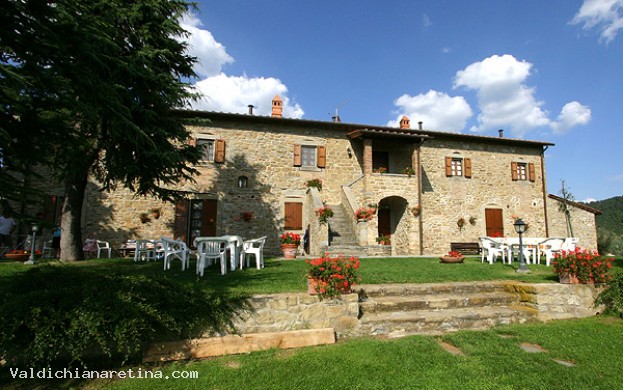 SERVICES
ACCETTAZIONE ANIMALI DOMESTICI
CAMPO DA TENNIS
CORSI DI CUCINA O ARTIGIANATO LOCALE
DEGUSTAZIONE PRODOTTI AZIENDALI
GIOCHI PER BAMBINI
PISCINA SCOPERTA
SERVIZIO FAX
DISPONIBILIT└ BICI E BYKE
RISCALDAMENTO INVERNALE
STRUCTURE DESCRIPTION

Set in the charming scenery of the Tuscan hills in Terontola-Cortoreggio only few miles away from Cortona, an ancient Etruscan town, the farmhouse Cortoreggio lies amongst beautiful woods and lawns. Its excellent location provides guests with stunning views of the Valdichiana and Lake Trasimeno and makes the farmhouse the ideal location to spend quiet and stress-free holidays amongst relaxing walks, mountain-bike outings and visits to nearby artistic and cultural destinations. This tastefully restored old farmhouse is equipped with a 16x8 foot swimming-pool; its interiors are finely furnished and each room is equipped with bathroom with whirlpool shower, telephone and TV set. Tennis courts are located only ¾ mile away. Experts rated our farmhouse as one of the best in Tuscany.

Some historical facts: the farmhouse is located on a hill at about 300 metres a.s.l. in close proximity to the places where Carthaginian general Hannibal routed in 217 B.C the Roman army in the battle of Lake Trasimeno.

Its strategic location on the border of the Perugia, Arezzo and Siena provinces make the farmhouse an ideal base for short trips to major destinations in Umbria and Tuscany. Staying at Cortoreggio you will also enjoy the chance to visit Rome and Florence by train as the Terontola train station is located only 1 ½ miles from the farmhouse.
ARCHITECTURE, ART

NEARBY
DINING & ENTERTAINMENT

NEARBY