> Home > What to visit > Churches and Monasteries
Pieve di San Michele Arcangelo a Metelliano
Cortona
CHURCHES AND MONASTERIES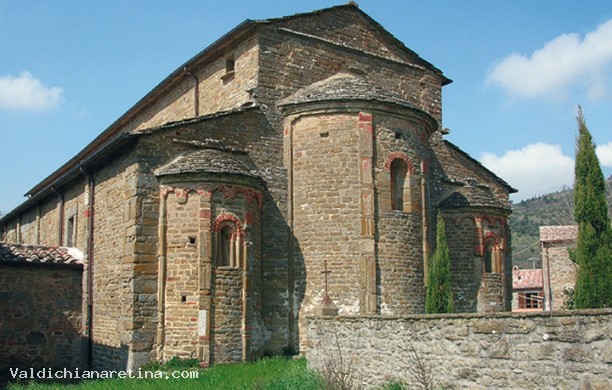 PHONE NUMBERS AND TIMES

Pieve di San Michele Arcangelo a Metelliano


Business card (vCard)
The Church of San Michele Arcangelo is located five kilometers from the center of Cortona, on the road running from Borgo San Domenico leads to the Countess and then Sant'Angelo a Metelliano.
Declared a national monument since 1907, is located at the mouth of the valley dell'Esse, five kilometers from the center of Cortona in a place called Metelliano this area inhabited since Etruscan and Roman times as evidenced by numerous artefacts found here.
The church was built on a Roman temple dedicated to Bacchus, the temple was maintain at the MAEC Cortona a plaque commemorating the burial of a Roman child. Sources certainly Lombard (VII century) remain the apses built using local materials and pre-existing Roman temple consecration to Michael, the Archangel who holds the sword, of which the Lombards, warrior people, were devotees.
Shortly after 1000, the architect of Arezzo Maginardo, who had been for a period well in Ravenna and then learned the Byzantine style of some monuments of that city, designed the current structure; her great insight was to leave unchanged the three apses decorated the outside of blind arches with pilasters.
The façade reveals an austere and simple beauty, in Byzantine style, is double salient, the portal is surmounted by a headband with a single lancet window to the side. The two inputs on the side of the church, now closed, retain lunettes with beautiful medieval bas-relief. The interior has three naves separated by large pillars Roman alternating with slender Byzantine columns to indicate clearly a continuity of style and thus creating a very special effect of spaciousness and rhythmic movement anticipating in a certain way, the Gothic.
STAY

NEARBY
DINING & ENTERTAINMENT

NEARBY