> Home > Where to stay > Agritourism
Caselle
Cortona
AGRITOURISM 3 EARS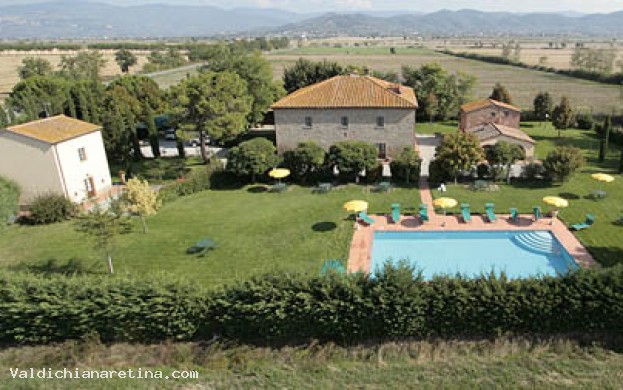 * Required field
DO YOU WANT MORE INFORMATION?

Call our Call Center at
Tel. 0575 630364 - Fax 0575 630447

Website
www.agriturismocaselle.com
SERVICES
ACCESSIBILITA PORTATORI HANDICAP
ACCETTAZIONE ANIMALI DOMESTICI
GIOCHI PER BAMBINI
PISCINA SCOPERTA
TREKKING
DISPONIBILIT└ BICI E BYKE
RISCALDAMENTO INVERNALE
STRUCTURE DESCRIPTION

Caselle is a XVIII century huge villa, now transformed in a residence. During the '800s with the expansion of the agricultural sharecropped system, this building became a farm; it has been recently restructured maintainig the original aesthetic and architectonic characteristics. The huge side walls in local sandstone (this is the reason why this place is named Pietraia - ston cave) are in harmony with the interiors which are characterized by traditional floors in "cotto" (a special kind of brick) brick vault ceilings on the ground floor and wooden beam ceilings on the upper floor. The villa is divided in eight apartaments, which differ in size and style, and can host from two to six persons. They have maintained the old floors, fireplaces and furniture.

Outside the residence there is a big garden with a 7 by 14 m swimming pool and relaxing little lake where it is possible to go fishing. The residence is equipped with: a color TV and satellite (each apartement, a big hall, a barbecue, a recreational park for children, and several mountain bikes). Every week, the residence offers at its pleasant hosts a tipic dinner in the garden. Moreover the residence has an agreement, at reasonable price, with a riding school. "Le Caselle" also offers to visitors its typical agricultural products.

In the surroundig gentle hills, it is possible to make excursions on foot or by mountain bike where nice oak or common pine woods, located between olive tree fields and vineyards, give to excursionists the chance of picking up genuine and spontaneous wood products as blackberries, strawberries, asparagus and mushrooms. A visit to lake Trasimeno and its gorgeous islands is suggested.
ARCHITECTURE, ART

NEARBY
DINING & ENTERTAINMENT

NEARBY