> Home > >
Pala di San Giuliano
Castiglion Fiorentino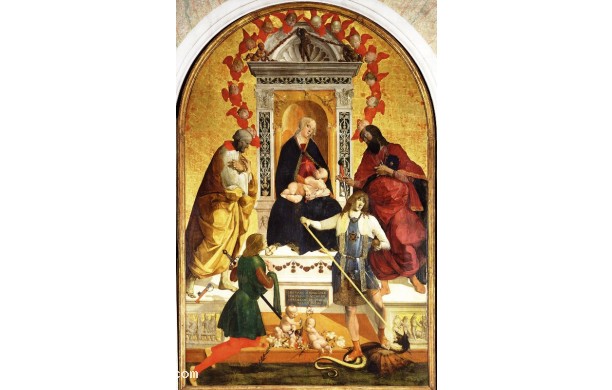 Artist: Bartolomeo Della Gatta
Year: 1486
Current location: MUSEO DELLA PIEVE DI SAN GIULIANO
Original location: Collegiata di San Giuliano

DESCRIPTIVE INFORMATION
The Altarpiece of St. Giuliano - relevant to the large table of "Madonna and Child, Saints Peter, Paul and Julian and the Archangel Michael" - consisted of four compartments, each of which is a painting on wood 25x 58 cm. From an inscription on the steps of the throne is clear that the altarpiece was executed in 1486 on commission from Cristiano Cecco di Pietro, farrier. The compartments of the predella illustrating the earthly and human Giuliano, represented in the altarpiece as a saint who approaches reverently and perennially eager for atonement in the sight of Christ. It is undoubtedly a very special figure, whose troubled life led in holiness was to be not easily understood by the faithful. The predella, intended for a closer view of the public, is designed to explain how a man who had killed both his parents had become a saint. From the artistic point of view, it is a work of great value, for the completeness of the information on episodes from the life of San Giuliano and the high level reached by Bartolomeo della Gatta demonstrates that these "calligraphic skill which is not alien to his work as a miniaturist "writes Paola Refice. The work of the Collegiate Church of St. Julian had to be just next to St. Francis receiving the stigmata, now in the Pinacoteca Comunale. It was praised by Vasari especially for the expression of St. Julian, who seems to set his eyes to the Madonna and Child in her arms "seems to afflict a lot of you have killed the father and mother."
Pala di San Giuliano