> Home > Where to stay > Agritourism
MULINO VECCHIO DEL CILONE
Castiglion Fiorentino
AGRITOURISM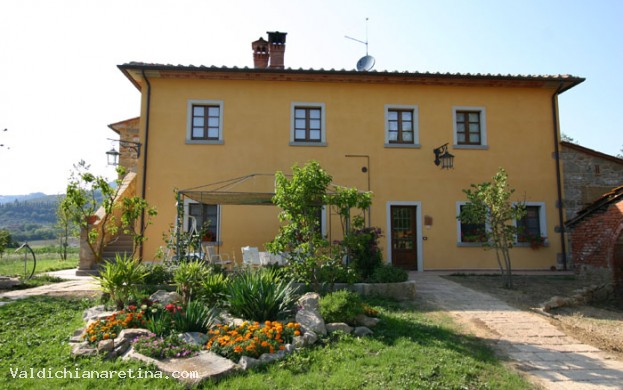 * Required field
DO YOU WANT MORE INFORMATION?

Call our Call Center at
Tel. 0575 650105 - Fax 0575 650105

Website
www.mulinodelcilone.it
SERVICES
ACCESSIBILITA PORTATORI HANDICAP
ACCETTAZIONE ANIMALI DOMESTICI
DEGUSTAZIONE PRODOTTI AZIENDALI
GIOCHI PER BAMBINI
PISCINA SCOPERTA
ANIMAZIONE
RISTORANTE
SERVIZIO FAX
DISPONIBILIT└ BICI E BYKE
RISCALDAMENTO INVERNALE
STRUCTURE DESCRIPTION

If you will decide to spend a short or a long period in our holiday farmhouse we will be glad to meet you, but now I can only tell you some details that will help you to choose our area and our tranquillity.

We have been farmers for more than four generations and we come from an agricultural area of Northern Italy where the industrial development and the expansion of Malpensa airport obliged us to search for a healthier environment to live with our family. Some positive coincidences and a stroke of luck, that I would have the pleasure to tell during a dinner, let us arrive at Castiglion Fiorentino and find a farm, located in a calm valley, preserved from the expansion of urban areas. Lots of trekking paths join several castles and ruins around the valley and new cycle paths pass exactly outside our house; there are also other activities whose information you can find in the booklets on our notice board. Moreover, you can hire bikes at our holiday farmhouse. If you will have to move using public transport, we can accompany you with our means of transport (Mercedes Viano 2.0) fully equipped for disabled; for other cultural, artistic, gastronomic visits we can come to an agreement together.

Our family is composed of Romano, Giovanna, Alessio and Riccardo. When we restored the mill we were respectful towards disabled people because Alessio, our elder son, is a wheelchair boy and this is one of the reasons why we decided to provide a well-situated ground floor flat, Iris, easily accessible and organized for disabled, to allow them to appreciate the outdoor life.

The other first floor flats, Yellow Wisteria and Apple Blossom, are accessible from a nice outside staircase, with a little loggia made of stones.

Every flat is completely independent, has a fully fitted kitchen, TV, safe, washing machine; it is suitable for people who want to be autonomous. If you want to taste the traditional Tuscan food made of our organic products (we cultivate them in our farm), you should taste Giovanna's dishes and our organic wine (Tuscan red wine of Valdichiana).

You can dispose freely of the products of our big vegetable garden.

Usually, during the summer, weather permitting, you can eat outside where some thin canes shade our open spaces equipped with tables, a barbecue and a wood-burning oven: they are perfect to cook pizza, roast meat, spare ribs etc… During your dinners you can enjoy the landscape and wonderful sunsets behind the hills.

We have a children swimming pool and a bigger adult swimming pool; there are also beach umbrellas, deckchairs and an outside heated shower. A low net separates the swimming pools from a little area equipped with slides and other toys for children.

During your stay, after tasting the dinners that usually we have together with our guests and after appreciating our products, you can buy some oil, wine, polenta flour, jam etc…

We welcome your animals and we have poultry, a Labrador and a mongrel.

Wishing to meet you in this wonderful valley, Romano, Giovanna, Alessio and Riccardo greet you.
ARCHITECTURE, ART

NEARBY
DINING & ENTERTAINMENT

NEARBY