> Home > >
Cataletti mortuari
Lucignano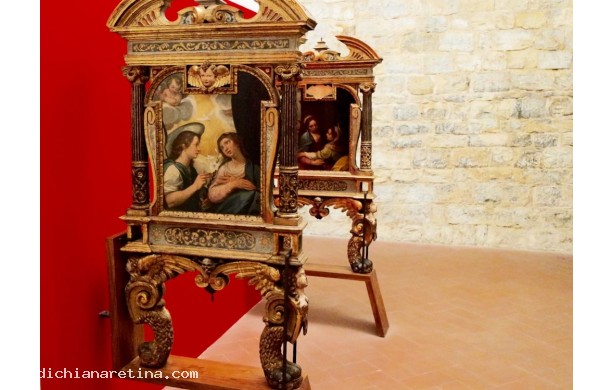 Current location: Museo Comunale di Lucignano
Original location: Chiesa della Misericordia o della SS. Annunziata

DESCRIPTIVE INFORMATION
Two beautiful pairs of coffin warheads respectively dating back to the seventeenth and eighteenth centuries. These grave goods were once used by the fraternities to transport the deceased to the burial, and to allow the exposure of the Brotherhood headquarters and which had belonged to the church. The coffin with painted heads appear in the fifteenth century and appears to have been purely Sienese use.

The first pair, dated 1626, comes from the Collegiate Church of St. Michael the Archangel, while the second pair comes from the sanctuary of Our Lady of the Oaks, where they had headquarters of the brotherhoods who were responsible for services to the community as the funeral service.

The paintings of the first pair, The Coronation of the Virgin, the Visitation, PietÓ supported by two angels and the Annunciation, have recently been identified as the work of Giovanni Antonio Cerretelli of Scrofiano (news 1584-1628) one of Francis students Vanni, while the other depicting St. Charles Borromeo, Christ Redeemer and the patron saints of Lucignano (San Biagio and St. Michael the Archangel, St. Francis, San Felice Pope) are generically be referred to the Siena-Arezzo.

The frames are made of a precious carving with supports in the form of lion's paws, and sphinxes.
Cataletti mortuari