> Home > >
Madonna col bambino su fondo oro
Cortona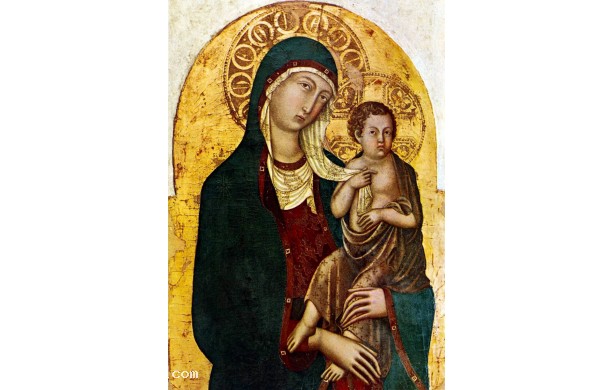 Artist: Niccolò di Segna
Year: 1336 ca
Current location: Museo Diocesano
Original location: Santuario di Santa Margherita

DESCRIPTIVE INFORMATION

This sophisticated Madonna with Child is a work of unimaginative attribution history. For a long time generally considered to be a Sienese school, it began to be associated with the production of Niccolò di Segna (one of the greatest painters of Siena in the 14th century), with some exceptions: Luciano Bellosi, for example, was attributable to the hand of Niccolò's brother, Francis of Segna. Later, Alessandro Bagnoli would have shown himself in the same vein, who saw in the "impassioned accent" of the Virgin's face a trait that shared it with other tables that might have been realized by Francesco di Segna.
Niccolò di Segna's prophets, however, are some of the features studied by various scholars, beginning with the influences of Duccio di Buoninsegna, the expressiveness of the characters, the precision of the design, the refinement and the elegance of the figures who in turn replied to the painting by Simone Martini. In fact, it is a work of great refinement, which denotes a distinct taste for decoration: we see it from the edge of the mantle of Our Lady, from the veil that the White Child carries to itself (prefiguration of his death on the cross: it is a back to the shroud), decorated with golden embroidery, from the motif that adorns the costume of the Child. To notice the elongation of the figures (note the hands of the Virgin) and the draperies that fall with sinuous volutes. The decorative fineness is also noted in the design of the honeycombs: decorated with vine leaves (and then further referring to the Passion) that of the Child, with circles containing the formula "Ave gratia [plena]" that of the Madonna.
Referred to the thirties of the fourteenth century, in a period close to 1336, the table came from the sanctuary of Santa Margherita di Cortona, probably part of a polyptych that went missing.

Taken from:
https://www.finestresullarte.info/operadelgiorno/2017/656-niccolo-di-segna-madonna-col-bambino.php
Madonna col bambino su fondo oro