> Home > Where to stay > Agritourism
SANTO STEFANO
Castiglion Fiorentino
AGRITOURISM 3 EARS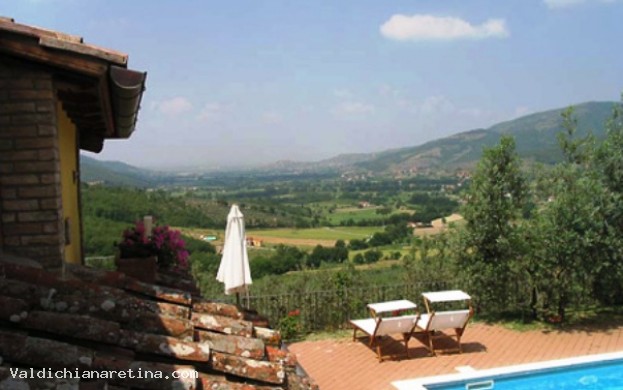 SERVICES
ACCESSIBILITA PORTATORI HANDICAP
GIOCHI PER BAMBINI
PISCINA SCOPERTA
TREKKING
VISITE GUIDATE
ANIMAZIONE
RISCALDAMENTO INVERNALE
STRUCTURE DESCRIPTION

anto Stefano is a young Biological Agricultural Company run by one family, situated in the splendid Valle di Chio, which produces with a lot of passion wines, vinsanto, passito, extravirgin olive oil, different types of honey and profumated dried aromatic herbs.
On the farm it is always possible to visit the wine cellar and the laboratories where the honey, and aromatic herbs are produced.

The owners live on the compound of the agricultural farm which consists of an antique farmhouse traded back to the 12th century.

The small houses for the guests were in the past shelters for the agricultural activity and are now wisely restructur! ated respecting the old traditional way of tuscan constructions.
Each appartement is equipped with kitchen, bathroom and an external private space from which one can enjoy an extraordinary view on the Valle di Chio with its antique medieval village of Castiglion Fiorentino and the Val di Chiana Aretina and Senese in the background.
ARCHITECTURE, ART

NEARBY
DINING & ENTERTAINMENT

NEARBY