> Home > Where to stay > Agritourism
LE CAPANNE
Castiglion Fiorentino
AGRITOURISM 3 EARS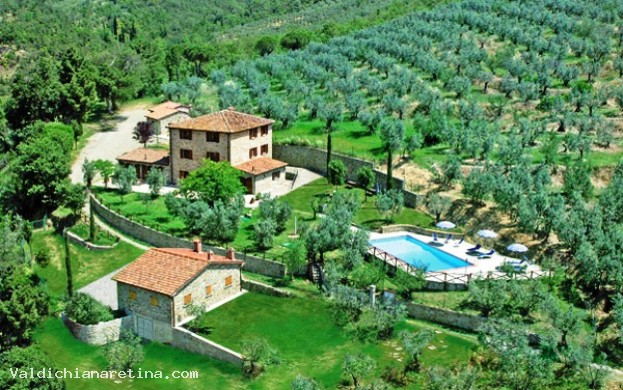 * Required field
DO YOU WANT MORE INFORMATION?

Call our Call Center at
Tel. 0575 656500 - Fax 0575 656500

Website
www.lecapanne.com
SERVICES
ACCESSIBILITA PORTATORI HANDICAP
ACCETTAZIONE ANIMALI DOMESTICI
PISCINA SCOPERTA
TREKKING
VISITE GUIDATE
ACCESSO A INTERNET
SERVIZIO FAX
DISPONIBILIT└ BICI E BYKE
RISCALDAMENTO INVERNALE
STRUCTURE DESCRIPTION

Amongst the farm holiday structures in Tuscany, LE CAPANNE have been graded with three spikes which, according to the Region of Tuscany's new regulations, is equivalent to the best evaluation for a farm holiday complex in Tuscany.
The LE CAPANNE farm holiday complex is situated on a hilltop 336 metres above sea level in a quiet countryside location amongst olive groves and century-old oak trees.
The farm is located in the Valle di Chio, one of the smallest and most charming Appennine valleys, near Castiglion Fiorentino, approximately 10 km from Cortona. Once an old stone farmhouse, today LE CAPANNE has been renovated and it has all the modern comforts one would expect whilst keeping its rustic features.
The complex has a swimming pool and also a large fenced garden with furniture and barbecues. Adjacent to the house one can find a large living room with a fireplace for guests to use.
It is an ideal holiday for those who want to discover the flavours of the Tuscan countryside, or those who want to find out about Tuscan traditions whilst enjoying unforgettable days in a familiar and warm atmosphere.
In the splendid surroundings there are many paths for guests to go trekking, mountain biking or horse riding; the stables are located about 7 Km from Castiglion Fiorentino. The farm holiday complex is in a location which enables guests to easily reach the most beautiful cities of art in Tuscany and Umbria. Local tours, cooking, painting and Italian lessons are available on request; it is also possible to take part in the grape and olive harvests.
ARCHITECTURE, ART

NEARBY
DINING & ENTERTAINMENT

NEARBY