> Home > Where to stay > Agritourism
IL CAMPO GRANDE
Castiglion Fiorentino
AGRITOURISM 2 EARS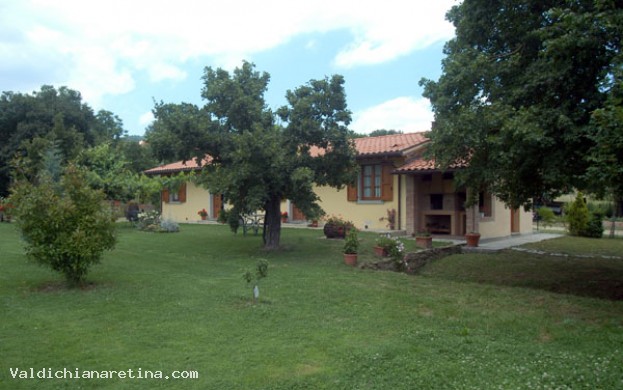 * Required field
DO YOU WANT MORE INFORMATION?

Call our Call Center at
Tel. 0575 650177 - Fax 0575 650177

Website
www.ilcampogrande.com
SERVICES
ACCETTAZIONE ANIMALI DOMESTICI
GIOCHI PER BAMBINI
PISCINA SCOPERTA
TREKKING
VISITE GUIDATE
DISPONIBILIT└ BICI E BYKE
RISCALDAMENTO INVERNALE
STRUCTURE DESCRIPTION

Set In the natural amphitheatre of the Valle di Chio sits Campo Grande, a working organic farm owned for generations by the Giusti family whose main occupation is agriculture. The love for the land and its produce has created a happy union leading to many innovations and improvements to our activities and farming methods. In recent years we have introduced many agricultural changes, from crops, plants, vegetables and, more recently, farm holidays. Throughout all these changes, we have never abandoned our olive trees or our vineyards – which have always been a great passion of our family. In fact, our farm produces extra-virgin olive oil , typical Tuscan red wine IGT (Indicazione Geografica Tipica - Typical Geographic Indications), vegetables and ornamental plants including Tuscany's famous cypress trees.

Our family works very hard and take great pleasure from our wine production. During the production period, the wonderful aroma of fermentation fills the house and thereafter the satisfaction of bottling the wine brings great pride to us all. And what can we say about our olives.... Having soaked up the Tuscan sunshine, they are collected during the winter period when the climate is often not the best for outside work, but... what joy when the harvest is abundant and in the evening we can count the collected baskets and look forward to producing our own organic olive oil. Four years ago, we decided to introduce Agriturismo – farm holidays. In spite of the worry of this new activity, we are very pleased with the result. Perhaps the hardest task was to find a name for this project. After much thought and discussion we decided to use the nickname used by our grandfather for the plot of land where our house is situated: and so, Campo Grande it became!
ARCHITECTURE, ART

NEARBY
DINING & ENTERTAINMENT

NEARBY