> Home > Where to stay > Agritourism
Casale Ruffignano
Cortona
AGRITOURISM 1 EAR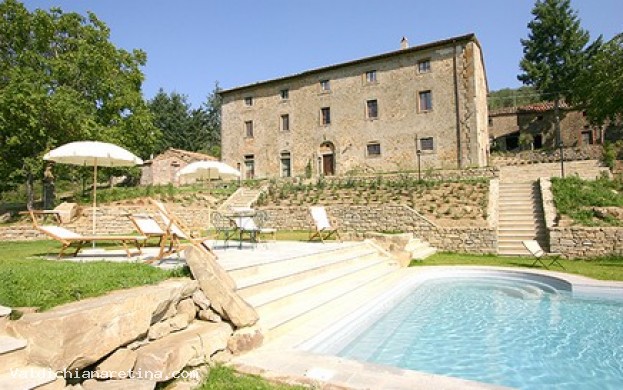 SERVICES
DEGUSTAZIONE PRODOTTI AZIENDALI
GIOCHI PER BAMBINI
TREKKING
VISITE GUIDATE
STRUCTURE DESCRIPTION

Ruffignano country house is an ancient palace fine restructured, in the heart of the mountain around Cortona, between Tuscany and Umbria. Historically could be named by "the Villa of Rufino", first general of Alarico, King of the Goti.
Encircled from natural beauties, the structure offers a luxury stay in absolute quiet, not far from Cortona (about 10 Km.) and also near to other cities of art, for its particular position to the border between Tuscany and Umbria.

The building is structured on 3 plans, entirely builded and restored with typical materials of the tradition The hosts will have free access to the big swimming pool at their exclusive use and to the great halls with fireplace. The structure is furnished with every comfort (Tv, heating to gas, linen, tools from kitchen), and concurs various possibilities: it can be rented like single Villa with total 6 rooms with bathrooms.

The country house can also be divided in 2 apartments on 2 floors, where every apartment is equipped of kitchen-stay, 3 wide rooms with bath. A small dinner will be offered as welcome with tasting of native products in the characteristic halls, will be supplied firewood for the present fireplaces in the apartments and will be made homage of typical products of Cortona.
ARCHITECTURE, ART

NEARBY
DINING & ENTERTAINMENT

NEARBY