> Home > Where to stay > Bed & Breakfast
Casa Bellavista
Cortona
BED & BREAKFAST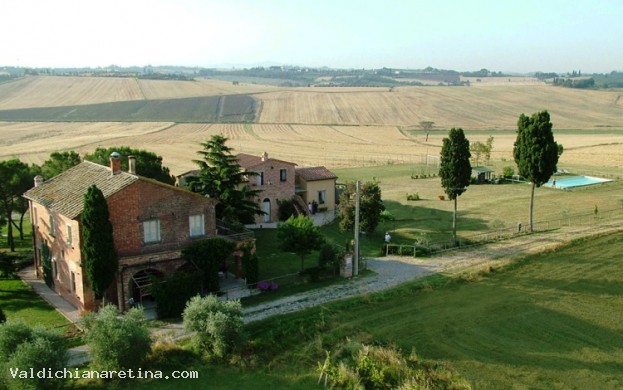 * Required field
DO YOU WANT MORE INFORMATION?

Call our Call Center at
Tel. 0575 610311 - Fax 0575 610749

Website
www.casabellavista.it
SERVICES
PISCINA SCOPERTA
SOMMINISTRAZIONE ALIMENTI
LAVATURA E STIRATURA BIANCHERIA
ACCESSO A INTERNET
SERVIZIO FAX
DISPONIBILIT└ BICI E BYKE
TV SATELLITARE
RISCALDAMENTO INVERNALE
PING PONG
CAMPO DI CALCETTO
ASCIUGA CAPELLI
OSTERIA E/O BAR
SALA RITROVO E/O TV
SCUOLA DI CUCINA
MASSAGGI
PARCHEGGIO RISERVATO
VASCA IDROMASSAGGIO
SOLARIUM
STRUCTURE DESCRIPTION

Casa Bellavista is a B&B in the true English sense, a home opened to visitors who wish to experience the authentic lifestyle of a Tuscan family.

There are four double bedrooms, each with its own bathroom. Guests have complete use of the indoor common rooms including the library, the sitting rooms and the dining room. Outside you will find relaxing areas to enjoy: our grove of olive trees and fruit trees from which you have a commanding view of Cortona, a garden which offers our guests a panoramic view of Montepulciano, Mount Amiata, Sinalunga and Monte San Savino, and a swimming pool for relaxation under the warm sun of Tuscany.

Each morning our guests enjoy a buffet style breakfast which includes:

• home made cakes
• biscuits
• cereals
• jams made from our own fruit
• honey
• ham and sliced meats
• cheeses
• bread
• fresh fruit
• yoghurt
• fruit juice
• butter
• coffee, tea, milk
• eggs (available on request)

Dinner reservations in advance are gladly accepted. Our dinners feature dishes from the best of Tuscan culinary tradition. Dinners might include such dishes as; ribollita soup, spelt salad, pasta with tomatoes, duck with wild fennel, panna cotta and fruit tarts.

All dinner guests are seated around a single table, a choice that reflects the warm and welcoming style of Casa Bellavista. Even the largest of families sit around one table.
ARCHITECTURE, ART

NEARBY
DINING & ENTERTAINMENT

NEARBY