> Home > >
Madonna in trono con Bambino, san Pietro e san Giovanni Battista
Lucignano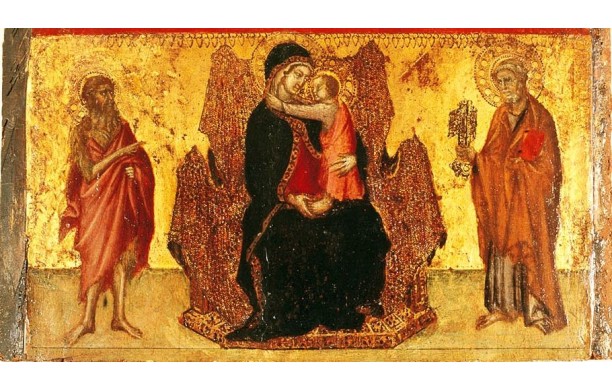 Artist: Lippo Vanni
Current location: Museo Comunale di Lucignano
Original location:

DESCRIPTIVE INFORMATION
The tablet with the Madonna Enthroned between St. Peter and St. John the Baptist was originally part of a tablet composed spire, at the top of the Annunciation and, at the bottom, by another of the same size tablet with the Saints Catherine of Alexandria, Michele, Maria Maddalena and Francesco. It is an early work of Lippo Vanni, Sienese painter and miniaturist who lived around the mid-fourteenth century, whose most famous work is the fresco cycle of the hermitage of San Leonardo al Lago (SI). The work was commissioned by Ser Pietro de 'Vanni Cenni, to whom we owe the hospital of St. Anne, built in 1397 thanks to his bequest.
Madonna in trono con Bambino, san Pietro e san Giovanni Battista