> Home > Where to stay > Bed & Breakfast
Rugapiana Vacanze
Cortona
BED & BREAKFAST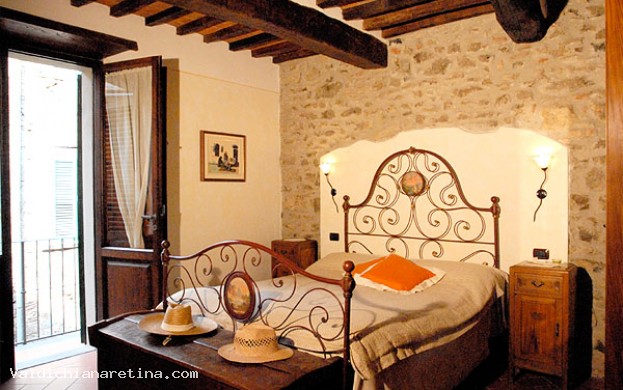 * Required field
DO YOU WANT MORE INFORMATION?

Call our Call Center at
Tel. 0575 630712 - Fax 0575 630712

Website
www.rugapianavacanze.com
SERVICES
ACCETTAZIONE ANIMALI DOMESTICI
LAVATURA E STIRATURA BIANCHERIA
ACCESSO A INTERNET
SERVIZIO FAX
ARIA CONDIZIONATA
TV SATELLITARE
RISCALDAMENTO INVERNALE
FRIGOBAR
STRUCTURE DESCRIPTION

This palace takes its name from the street "Rugapiana" that means "flat street". Rugapiana is the only flat street that can be found in the historical centre of Cortona.
In the past, the word "Ruga" was used to describe a street with shops, labs and houses.
Today "Rugapiana" closed to traffic, and is the main street of this Etruscan town that offers tourists the chance to travel back into past centuries. Everything in Cortona is reminiscent of the Etruscan and medieval times, as well as the Renaissance.

"Rugapiana" is the most popular street for both Cortona's inhabitants and tourists who come to visit this medieval jewel surrounded by its Etruscan walls, lying on a hill overlooking the valley and the lake Trasimeno. In the middle of this street, an ancient palace has been skillfully restored into apartments, each with a full kitchen and rooms with bathrooms with all the comforts. Every apartment maintains ancient local stone walls, terra-cotta floors and wooden beamed ceilings, respecting the architecture of the past. Every apartment is furnished with antique pieces of furniture, whereas the kitchens and bathrooms are modern and comfortable.
The Palace is in the ideal location for guests who want to visit the historical town centre on foot, strolling through the town and discovering its local stores, its cafes, and restaurants. One can explore the town's tiny, ancient streets, its churches and its museums. By car (parking lots are just 50 meters away from the center), one can drive to visit nearby art-towns, such as Montepulciano, Florence, Siena, Perugia, Assisi, Gubbio, Spoleto, Cianiano, Monte Amiata or Lake Trasimeno and its islands.
ARCHITECTURE, ART

NEARBY
DINING & ENTERTAINMENT

NEARBY